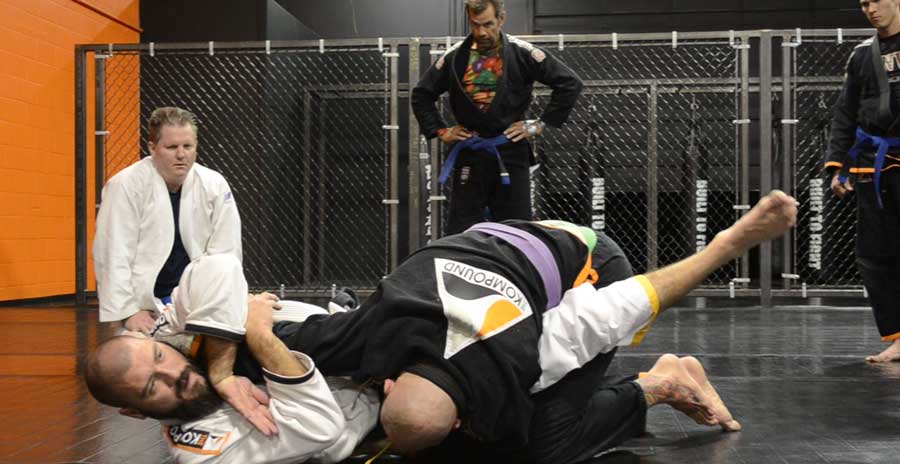 Brad Nicolarsen's journey began in 1998 at just 14 years old when he started boxing. An avid participant in team sports such as basketball, he started looking for something more focused and was quickly drawn to boxing. As with everything he does, he threw himself heart and soul into the sport and soon found himself spending several hours a week at Brotherhood Boxing in Denver.
After a year of intensive training, he was introduced to the world of kickboxing and Muay Thai. He spent all of 1999 and 2000 focusing on Muay Thai training with renowned coach Oscar Martinez. From there it was a natural progression to look into the world of Brazilian Jiu-Jitsu, which was rapidly gaining in popularity at the time.
In 2001 he trained with Dave Ruiz at Colorado BJJ, one of only two existing Brazilian Jiu-Jitsu gyms at that time. After going to school at CU Boulder, he switched to the other premiere BJJ gym, Easton Brazilian Jiu-Jitsu, and studied under Amal Easton. After moving to the West Coast in 2003, he earned his blue belt training under Juliano Prado.
By 2004, his need to move and to learn got the better of him and Brad decided to go to the source this time, moving to Rio De Janeiro, Brazil, where he trained at the Gracie Barra Gym. Here he was able to learn directly from some of the top names in the sport, including Marcio Feitosa, Flavio Almeida, and Carl Inos. He worked endless hours, not only building his own skills but also having the extraordinary advantage of being able to watch many of the top black belts in the sport train.
Soon, he was back in the States, completing his education at CU and training once again with Dave Ruiz. He earned his purple belt in 2006 while helping Mike Nickels run his new Colorado BJJ Highlands Ranch school. From there he moved on to train further with Jorge Oliveira, one of a group of BJJ masters out of Rio who trained in Barra and become known as the Barra Brothers, and earned his brown belt in the spring of 2011. In July of 2012 after years of intense nonstop training, Brad was awarded his black belt by Jorge Oliveira.
By 2012, Brad decided it was time to open his own gym and in January of that year, he opened Littleton Kompound, still under the guidance of Jorge. As time went on, Brad's noticed his students becoming more and more interested in pursuing higher level competition within the arena of competitive Brazilian jiu jitsu. Realizing he needed to have a registered black belt affiliated with his gym in order to meet IBJJF standards, he affiliated with Rafael Lovato – considered to be one of America's greatest grapplers.
Since then Brad has been working to make the Kompound a premiere name in competitive Jiu-Jitsu training. He combined everything he had learned from the old school masters and put his own spin on it, bringing it in tune with the times. His hard work paid off when the Kompound was named 2015 Gym of the Year by the Lovato Association.
What makes Brad and his gym stand out is that he puts all the focus on the students. As he says, he'd rather train 100 champions than be a champion himself. That's because he believes so passionately in passing on the knowledge that he's gained and the love he has for the sport of Brazilian Jiu-Jitsu.
And he applies that approach to every student who walks through his doors, no matter what their ultimate goal. Whether they're looking to compete, learn self defense or just want to lose some weight, Brad wants every student to be the best he or she can possibly be and will work with them to achieve their goal.
To that end, he's worked with everyone from collegiate wrestlers to UFC fighters to Olympic athletes, always with that philosophy of focusing on the student and passing on his knowledge in mind. Of course, in order to give his students everything they need he has to remain at the top of his own game, so he does continue his own training as well, but he has never been about self promotion and never will be.
And that's a mindset that he passes along to his students along with their skills. Even with his students who do compete, he makes sure it's not solely about winning a trophy or a medal but more about setting and achieving your personal goals. And that goal can be developing more self esteem, shedding an extra 50 pounds or gaining your next level belt… it's all the same to Brad.
That's why he's set up the Kompound with various classes for different levels of expertise, from beginner to advanced, and even includes women's classes and classes designed specifically to prepare students for competition. That way everyone who comes through his doors can get something out of the experience. And because he remembers how valuable it was for him to watch others train, he also includes All Levels classes, where athletes of different skill levels can come together and learn from each other.
Brazilian Jiu-Jitsu is about competition but it's so much more, and that's what Brad loves about it. The old school traditions of BJJ are important to him and he wants to pass them along to the next generation of athletes. You can't succeed without respecting where you came from and that means paying tribute to the foundations of the sport.
But BJJ is a living and changing discipline and Brad's focus is on keeping the sport alive. In fact, Mixed Martial Arts is the fastest growing sport in the world today and Brazilian Jiu-Jitsu holds a prominent spot within the MMA community. That is why Brad feels so strongly about being a part of spreading the word about BJJ. He wants every student who comes to his Kompound to feel as if they are a part of that incredible tradition too and to take BJJ into the future.